Kyogen in Suits at Ur vol.3 Poland business trip
Kyogen in Suits at Ur vol.3 Poland business trip
Poland x Kyogen? "Tarokaja" is going on an overseas business trip to Poland! Kyogen in Suits, born from entertainment at Kamo River, Kyoto. For the 3rd performance, you will see a work in which office KAJA welcomes Yamaguchi Renkyu as a boss and Sakai Mukyu as a colleague Kaja. Please enjoy yourself with some stories from Poland.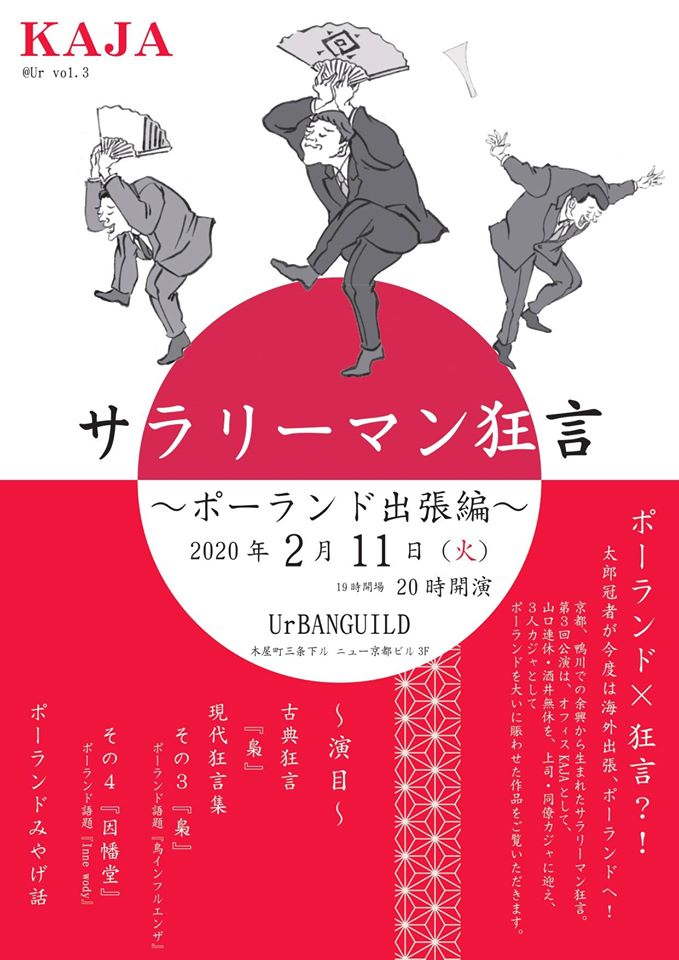 Introduction of the Kyogen piece
"Modern Kyogen Part 3 Owl" (in Polish, "Avian Influenza
Everyone in your office – your boss or co-worker – would like to escape from troublesome jobs. This piece is a remake of classic Kyogen "Owl," which is regarded as something nonsense. Where the story goes in the modern version?
"Modern Kyogen Part 3 Inaba Dou" (in Polish, "Inne wody")
Everyone – the old and the young – is absorbed in seeing someone new. This piece is a satire on carelessness of such modern people. Watch out for tempting words!
Time and Date
Feb. 11 (Tue.) 2020
Open 7pm / Start 8pm (Close around 9.30pm)
Admission
Tickets purchased in advance: 2,500JPY (with 1 drink)
Tickets purchased on the spot: 2,800JPY (with 1 drink)
* 1,000 JPY discount for students.
Venue
Three minutes' walk from Keihan Sanjyo Sta.'s Exit No.6
Six minutes' walk from Hankyu KyotoKawaramachi Sta.'s Exit No. 1
100m south of Kiyamachi Sanjyo Intersection
400m north of Kiyamachi Shijyo Intersection
You can find vending machin of ITOEN in front of the elevetor of the venue.
Please come to the third floor.
http://www.urbanguild.net/map/map_.html(アバンギルドHP内)
予約
河田全休twitter